History of Manga, 1900-1910 AD
Return to main index.
Kamishibai
Manga
Books
Magazines
Newspapers
General Comments
Under construction.
With the advent of newspapers and magazines, ukiyo-e loses its popularity in through the first part of the 20th century. "Manga" as a term starts to decay until one artist at Jiji Shimbun (Editorial Newspaper) proposes to repurpose it as "caricature", in the sense of Thomas Nast's editorial cartoons. It's not until 1905, and the appearance of Rakuten Kitazawa that "manga" really does adopt this new meaning (see both magazines and newspapers, below).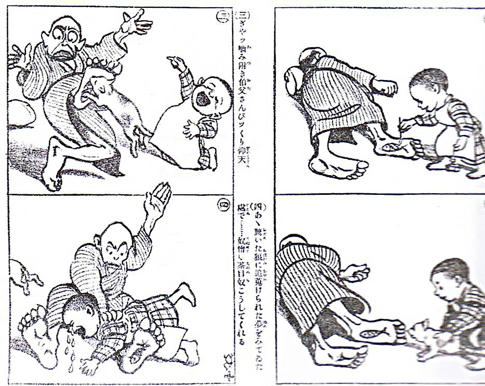 Rakuten Kitazawa's "manga", repurposed to mean "caricature". From Kitazawa Rakuten, used for review purposes only.
Under construction.
Things get crazy fast here. The first women's magazine, Myoujou (Morning Glory) starts in 1900 but only lasts until 1908. The girl's magazines Shojo Kai, Shojo Sekai and Shojo no Tomo then launch within the next few years. What's important here is that the western trained Japanese artists are coming in and either illustrating the covers, or proviinge filler artwork to take up blank space on the pages. This will eventually lead to the boom of "shojo illustrators" coming out of these three magazines in the next 2 decades. There are a couple of attempts at creating manga magazines for children, but they fold quickly. (List of magazines., Birth of a Million Seller.)

Shojo no Tomo cover, from Birth of a Million Seller, for review purposes only.
At the same time, Rakuten Kitazawa started at Box of Curios, doing cartoons. He intensely disliked the crude humor of ponchi-e (British magazine Punch-style gags) and advocated "manga as caricature" as mentioned above. He moved to Jiji Shimbun, where he focused on political commentary "manga". But, his nationalistic views brought him into conflict with his editors, so he started up his own Tokyo Puck magazine in 1905.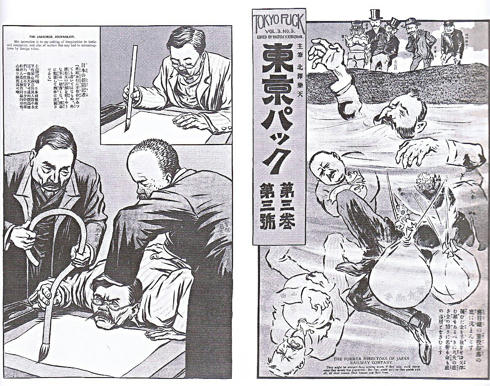 Rakuten Kitazawa's Tokyo Puck magazine cover. From Kitazawa Rakuten, used for review purposes only.
Where magazines had Rakuten, the newspapers had Ippei Okamoto (the father of abstract artist Taro Okamoto). Ippei started working for Asahi Shimbun, where he drew editorial "manga", and other illustrations for the paper.

Ippei Okamoto manga, "What throw should I use today", from Okamoto Ippei Manga and Random Essays, for review purposes only.
From the Okamoto entry.
There were a lot of similarities between newspapers and magazines in the early days of both forms. However, the biggest difference between them was in their release cycles. While the magazines ran monthly, the papers were closer to once every 2-3 days. This led to a divergence of subject matter, where the papers would cover current news and events, and the magazines would have commentary, fashions, recipes and longer fiction.