Anime and Manga-Related Museums in Japan
The Association of Japan Animations (AJA) has been publishing a brochure map listing many of the museums and galleries in Japan, but it's only in Japanese, and up until now it's been really hard to read and there hadn't been any URLs to the museums included on the map.  The latest map is easier to use and does have URLs, but it still lacks descriptions and I can't find an online version.  Anyway, many of the below gallery listings come from the AJA map.  Please note that some of the galleries may be connected to a local cultural center and may have only a very small selection of manga or artwork on display.  Some of the places are dedicated to artists that did illustrations rather than "manga as we know it today", including ukiyo-e woodblock prints or early shojo magazine illustrations.  If possible, I will visit the places around Tokyo and review them here.  Otherwise, no guarantees that they won't be a waste of time.
These galleries and studios come and go, making it hard to keep up with them.  Plus, I'm still finding places I never knew about, so this list probably won't ever be complete.  But, it's a start.  If you know of any locations not listed here, please contact me.
Click here for the list of Anime-related Sightseeing Spots.
Updates:
Jan. 3, 2010: Added the thumbnail image link to the review for the Saitama Manga Museum.
Tokyo (Within the Yamanote Loop)
Gallery of Fantastic Art (GoFA) (500 yen gets you a small coffee)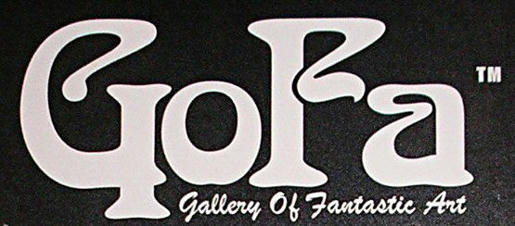 Largely, GoFA is an office space that doubles as a gallery every so often.  When they do have events, they're for selling postcards, t-shirts and litho prints from famous authors, such as for "Ghost in the Shell", "Orange Road", "Ah! Megami-sama" (21th anniversary) and "Saiyuki Reload".  Events may include one-day artist signings.  Check the GoFA website before visiting for event details.  Located on Aoyama street, halfway between Harajuku and Shibuya, on the 2nd floor of the Oval Building.  It's 500 yen to get into the event, and the receipt can be redeemed for a small coffee at the shop on the first floor.  Google Map . ( Reviewed here .)

Yayoi-Yumeji Museum (800 yen):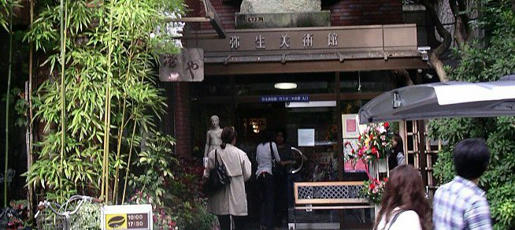 The Yayoi-Yumeji Museum consists of two connected buildings.  The Yayoi Museum is dedicated to girl's magazines, and had hosted the "Shojo no Tomo" (Girl's Friend) magazine display that ran from October to December, in 2009. The Yumeji Museum is dedicated to the works of illustrator Takehisa Yumeji, and has some works from Kasho Takabatake (see entry in Ehime below) as well.  It's at the backside of Todai University, just west of Ueno Park, about a 15 minute walk from Ueno station. Check the events page on the website for upcoming exhibits before visiting. Google Map . ( Photos here. )
Soleil (Free):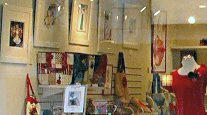 Soleil is actually a gift shop dedicated to the works of Jun'ichi Nakahara, fashion designer, doll maker and illustrator of Shojo no Tomo ("Girl's Friend") magazine for 5 years.  He later went on to create two of his own magazines for girls - Soleil and Himawari .  Some of his artwork was included in the "Shojo no Tomo" exhibit at the Yayoi-Yumeji Museum (above), and the Jun'ichi Nakahara Press produced the exhibit book for it.  This "Shojo no Tomo" book collection (which includes many sample pages from the magazines, for 4000 yen) as well as original used copies of the Shojo no Tomo magazines themselves can be found at here at Soleil.  Located next to the Hiro-o station on the Hibiya subway line, one stop from the JR Ebisu station.  Google Map .


A display area and goods shop on the 4th floor of the UDX Building, one block behind the Akihabara train station.  The Anime Center contains a small open theater for watching featured anime or for giving live performances; TVs running current broadcast anime; an exhibit area for displaying the artwork from featured new movies or TV shows, and a large gift shop selling t-shirts, towels, key chains and anime-related food products.  There's also a small broadcast booth used for recording episodes for an FM radio show.  The center gets crowded fast during these recordings, which always feature a popular anime voice actor or two.  Google Map . ( Photos here. )
Yonezawa Manga and Subculture Library (300 yen for the reading library):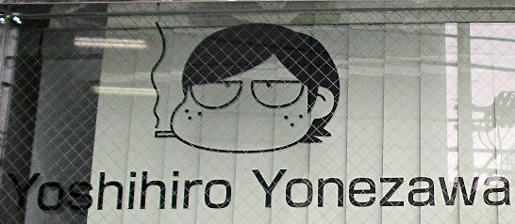 Yoshihiro Yonezawa, a manga critic, collector, and one of the founders of the Comiket doujinshi fair, died in 2006.  His collection of 70,000 manga, plus toys and anime cels was donated to Meiji University, which opened the "Subculture Library" in November, 2009.  The first floor contains a free exhibit describing Yonezawa's life and accomplishments.  The second floor has a reading library, for 300 yen.  It's located near Ochanomizu station.  Google Map .  ( Reviewed here .)

Contemporary Manga Library Naiki Collection (300 yen for adults):


Back in 1978, Toshio Naiki donated 27,000 manga, with 3,000 more coming from friends, to create this library.  He's now up to 60,000 books.  The library is about 2-3 kilometers east of Takadanobaba station (off the Yamanote JR line) at the intersection of Shin-Mejiro Dori and 319, at the edge of the Waseda University campus.  Google Map .  ( Reviewed here .)
Address: 565 Waseda, Tsurumaki-cho Shinjuku-ku, Tokyo 162-0041, Japan
Tokyo (SW of the Yamanote Loop)
Katsudi Matsumoto Collection (500 yen for adults):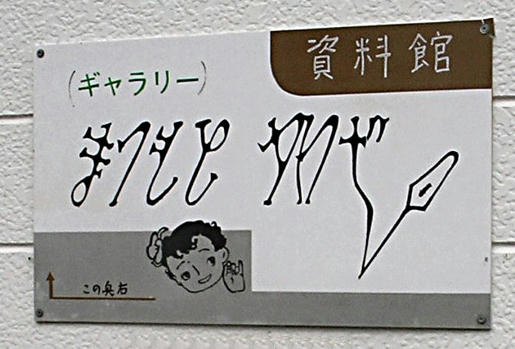 Katsudi (1904-1986) was a an illustrator, fine artist, children's book artist and manga artist.  His primary manga character was "Kuru Kuru Kurumi-chan", and his "Mysterious Clover" was one of the first story-driven manga to appear in magazines in the 1930's.  Some of his illustrations were used as page filler in such girl's manga magazines as Shojo no Tomo , while he also illustrated Japanese translations of western writers, most notably Hans Christian Anderson.  He also drew for children's books in the 1960s, and created characters used on children's products, including plastic glasses and plates (under the "Combi" name ).  Katsudi had 3 primary assistants, including Toshiko Ueda , creator of "Fuichin-san".  One of his occasional visitors was Machiko Hasegawa, author of "Sazae-san" (below).  The Collection consists of some of his artwork, some of the magazines he was published in, a gallery book, cards and postcards for sale, and some photos.  Open 11-5, Tuesdays and Saturdays.  A 10-minute walk north from Futako-Tamagawa station.  The collection is curated by Matsumoto's children, one of whom speaks English.  Google Map .  ( Reviewed here. )

Machiko Hasegawa Art Museum (600 yen for adults):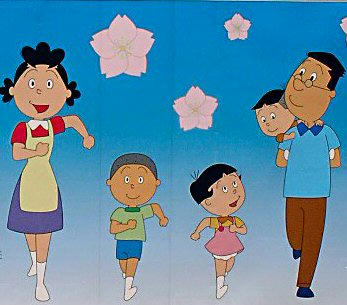 Machiko is the creator of one of Japan's longest-running TV anime series, and certainly one of the most beloved manga - Sazae-san .  Sazae-san is a simple 4-panel "slice of life" story that revolves around its principle character, the housewife Mrs. Sazae and her family.  Machiko collected a lot of paintings and glass works from other artists, and this museum was her way of letting the public see those works.  The main paintings rotate periodically, so it's best to check the website to see who's featured.  One section of the second floor contains Machiko's own manga art, and you can watch the TV series or read her manga as you like.  A small shop on the first floor sells the manga, posters, toys and Sazae-san-themed snacks.  Most of the text in the museum is in Japanese only, but the main brochure is available in English.  Google Map .  ( Reviewed here. )
(west of Shibuya by about 4 miles.) (Tel: 03-3701-8766)
Tokyo (West of the Yamanote Loop)

Ghibli Museum (Requires ticket purchase):
Museum dedicated to the works of Miyazaki Hayao and his Studio Ghibli partners.  The museum is located near Inokashira Park in Tokyo, but is a little difficult to get to if you don't know your way around the city.  Tickets are not sold at the museum - you either have to buy them at Lawson convenience stores within Japan, or online if you're outside the country.  Google Map .

Suginami Animation Museum (Free):


One of the first attempts to make a museum for anime and manga in general.  They have revolving exhibits dedicated to different artists, plus a library that allows you to watch hundreds of anime DVDs and read hundreds of manga for free.  On-site artists show how they create their works, and a small gift lets you buy various paraphernalia.  Check out the current exhibit list before you go to make sure it's something you're interested in.  Located near Ogikubo station, just outside Shinjuku on the Chuu-ou line, several miles from the Ghibli museum  Google Map .  ( English pamphlet ). ( Reviewed here. )
Toei Animation Gallery (Free):

The Toei Animation Gallery is attached to the Toei Animation Company studio in Nerima, a few miles west of Ikebukuro.  The gallery is the only part of the studio that's open to the public; located on the ground floor of the first building you come to as you enter the parking lot.  Exhibits get changed up periodically so there's no guarantee as to what you'll see when you arrive.  But, the hallways are lined with advertising posters from shows like Gegege no Kitaro, Dr. Slump, Dragonball and Mysterious Akko-chan.  One room contains shelves of figures of characters from various shows plus displays of DVD sets.  A second room had exhibited more posters, artwork (pencil drawings, shooting scripts, etc.) from Mazinger Z, statues from Pretty Cure, and plush dolls from One Piece.  There was even a 20+ foot-tall statue of Mazinger Z.  TVs in the corners of the room played the opening and closing credit segments from Mazinger Z, Dragonball and other shows.  Take the Seibu-Ikebukuro line to Ouizumi Gakuen and from there it's a 15 minute walk northeast.  The Ouizumi Gakuen station also has characters and murals from Galaxy Express 999. Google Map .  ( Reviewed here .)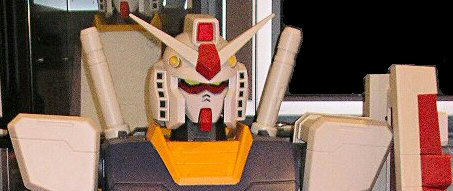 Sunrise is one of Toei's biggest rivals, having created the Gundam and Inuyasha series.  They have an office between Toei's Gallery and the Suginami Animation Museum, in Kamiigusa.  Take the Seibu-Shinjuku line 10 stops west from Takadanobaba.  Exit the Kamiigusu station, jog to the right, and follow the tracks back east 1 block.  The main building is closed to visitors, but the lobby has a collection of posters, figures and statues to look at.  Google Maps .  ( Reviewed here .)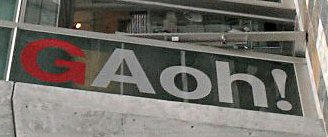 Umezz is one of the more unusual people you'll ever meet, and while his art style is fairly crude, he's very popular in Japan as a long-time horror manga artist ("Fourteen", "The Drifting Classroom").  GAoh! was a gallery space that opened in early Fall, 2009, in Shimo-Kitazawa.  The first floor was a goods shop dedicated to Umezz and included some other artists occasionally.  The basement was a rentable exhibit space, and the upper 1 or 2 floors are rentable workspaces.  Google Map .  ( Reviewed here. )

Tokyo (East of the Yamanote Loop)
Norakuro Manga Museum (Free):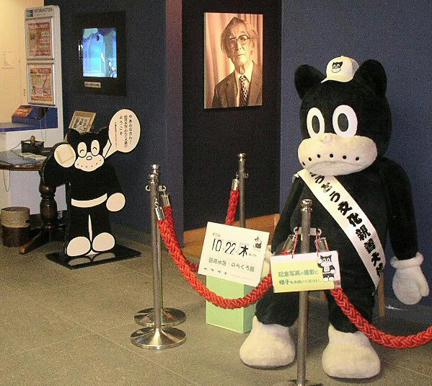 Manga artist Suiho Tagawa (1899-1989) lived in Morishita, just across the Sumida river from Akihabara.  A gallery dedicated to his most popular work, "Norakuro", is on the ground floor of the Morishita Bunka (Cultural) Center, on Takabashi Yomise Dori, about one mile south along 463 from the Ryogoku station on the Sobu line (Ryogoku is the big sumo district).  Norakuro is very crudely-drawn by today's standards, but it does figure heavily in manga history, and Machiko Hasegawa (above) apprenticed under Tagawa.  When you go, be sure to visit the shops along Takabashi Yomise, AKA: Norakuro Town, and buy a bottle of Norakuro sake.  Google Map .  ( Reviewed here .)
Western Outskirts of Tokyo

Oume Akatsuka Hall (400 yen for adults):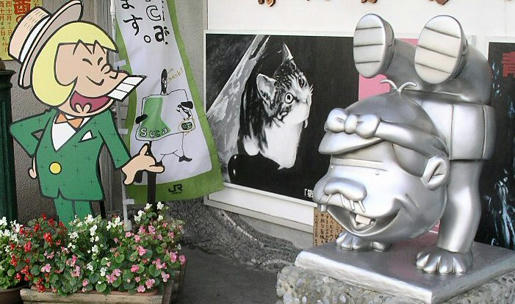 Fujio Akatsuka is probably one of the best-known gag manga artists in Japan, having created Tensai Bakabon and Himitsu no Akko-chan (one of the earliest "magical girl" series). He roomed with Shotaro Ishinomori at Tokiwa Mansion, home of Osamu Tezuka's studio from 1953 to 1954.  Fujio had an incredibly off-the-wall sense of humor, which shows clearly in this gallery.  They even have a photo of him getting an autograph from boxer Muhammad Ali.  The Hall is a couple of blocks southwest of the Oume train station.  The easiest way to get to Oume is to take the Keio line from Shinjuku to Tachikawa, then switch lines to Oume.  From Shinjuku, it takes about 1 hour.  Google Map .  ( Reviewed here .)
Shojo Manga-Kan :
According to the English page on their website, the Shojo Manga-Kan is an attempt at collecting and preserving girl's manga and magazines.  They're located in a house several miles south of Oume, making them about the same distance from Tokyo as the Oume Akatsuka Hall , above (but it would make kind of a long day trip to visit both of them at the same time. Unless you have a bike or car, you're probably going to need to take a bus between stations).  They're only open between April and October, on Saturdays, from 1 PM to 6 PM, so check their website for details before going out there.  Google Map .

Chiba
Macoto Room :
Takahashi Makoto, also known simply as "Macoto", was one of the more prominent male shojo manga creators of the 1950's, having debuted in '57.  His gallery is located in Chiba, way east of Tokyo.  Google Map .

Saitama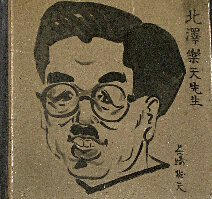 Also known as the Saitama City Cartoon Art Museum.  This place features the artwork of Japan's first professional cartoonist, Rakuten Kitazawa (1876-1955).  Rakuten was trained as a western-style political and social commentary cartoonist along the lines of Thomas Nast, and created his own series of magazines to carry his editorial cartoons, as well as manga for children, starting with Tokyo Puck in 1905.  He solidified the meaning of "manga" as "caricature" and had trained Hekoten Shimokawa , creator of Japan's first anime.  The Saitama Manga Museum was built on the land of his former home, and contains an exhibit of his work, as well as occasional rotating displays of local children's art, and other famous artists' materials.  Located in Saitama Ward, in the middle of Bonsai Village.  From Omiya Koen station, jog west to get across the tracks then go east 1 block and north 2 short blocks.  You should see a map board along the way, showing the location of the museum plus a description in English.  Google Map .  ( Reviewed here .)

Kawasaki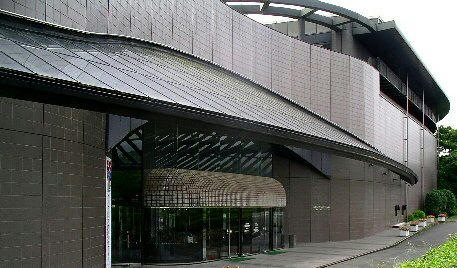 The Kawasaki Museum, located in Todoroki, near the Tamagawa river, a few miles north of the Kawasaki train station, and about 15 miles southwest of Tokyo station, occasionally runs anime films in their theater.  They also carried the " Shonen Sunday/Shonen Magazine 50th Anniversaries DNA " exhibit during the summer of 2009.  Check their schedule first before going out there to see if anything is airing at the time.  Google Map .

Yokohama

Yokohama Anpan-man Children's Museum :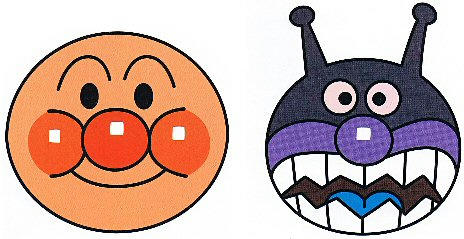 Anpan-man themed children's park, located in Yokohama, other side of Kawasaki from Tokyo.  Google Map .

Shizuoka
Chibi Maruko-chan Land :
This is an amusement park within the S-Pulse Dream Plaza complex in Shizuoka.  Southwest of Tokyo about 100 miles, past Mount Fuji. Shizuenji Nijin Sato Manga Museum :
Nijin Sato is a theme resort area with various attractions and gardens.  Within this area is the manga museum.   

Nagano

Chikuma Furusato Manga-Kan:
This looks to be a small library (don't know, haven't been there) run by the City of Chikuma, in the Nagano region.
Phone: 026-273-5639

Iida City Puppet Museum:
Check website for event schedule. Hokusai-Kan :
Museum dedicated to Hokusai, one of the masters of Ukiyo-e woodblock prints.

Osaka

Osamu Tezuka Museum (500 yen for Adults):
Actually, this museum is located in the city of Takarazuka, just outside Osaka.  It's fitting because Tezuka, the "Godfather of Japanese Manga" - loved the Takarazuka theater group ( Takarazuka is like an all-female version of Kabuki).  The museum is dedicated to Tezuka's works, including Atom Boy, Black Jack, and Buddha.  

Kyoto

The Kyoto International Manga Museum:
A very large-scale attempt at quantifying manga and presenting it to the world at large.  They have several big galleries for exhibits, lots of original art, daily reenactments of kamishibai, and huge archival holdings that are available to the public. They also have original art created for the museum by some of the top mangaka, including signatures and drawings on the walls of the cafe. Plus, they encourage cosplay in the museum on the weekends.

Kyoto Tezuka Osamu World :
Astro Boy goods shop located inside the Kyoto train station.

Mie

Kameyama Art Gallery, Ichiro Tominaga Section :
Tominaga apparently was a famous manga artist from the western part of Honshu island, but there's little information on him in English.  This local art gallery has one section named after him.

Toyama

Ichiro Tominaga Manga-kan :
Not a lot of information on this one.  The Togo area seems to be another resort up in the hills, with camps and gardens (check the website first for details), and one building identified as a manga museum dedicated to artist Ichiro Tominaga.

Ishikawa

Go Nagai Wonderland Museum:
The city of Wajima bought out an empty storefront and converted it into a tribute to the creator of Mazinger Z, Cutey Honey and Devilman.  It opened in 2009.

Ultraman Stadium :
Amusement park dedicated to Ultraman.

Miyagi

Shotaro Ishinomori Memorial Museum :
Ishinomori was the creator of "Cyborg 009" and the "Kamen Rider" series.

Ishinomori Mangattan Museum : (800 yen for adults):
Billed as an anime museum and information center.  Named after the creator of "Cyborg 009".

Masuda Manga Museum :
Takao Yaguchi was a popular manga artist in the 1970's and 80's.  Many of his stories had environmental themes, including his most successful title "Sanpei the Fisherman".  He came from Matsuda, near Miyagi, in Akita prefecture, and the city of Matsuda built the Yokote Matsuda Manga Museum to host his works.  Some of his characters also appear on billboards and buses around town.

Katsuichi Nagai Art Gallery :
Nagai founded Garo monthly magazine in 1964. The manga that ran in Garo included "Legend of Kamui" and "Screw Style".  This gallery seems to feature some of the artwork from Garo.

Tochigi

Bandai Museum:
Bandai Corporation set up a toy store and gallery up north of Tokyo by a bit.  Worth visiting if you're already in the area.

Tottori

Gosho Aoyama Museum (700 yen for Adults):
Aoyama is the creator of "Meitantei Konan" (Detective Conan, or Case Closed), "Magic Kaito" and and "Yaiba".  This museum is dedicated to his works.

Mizuki Shigeru Memorial Hall :
Gallery dedicated to the works of famed "Gegege no Kitaro" creator Shigeru Mizuki.


Okayama

Yumiko Igarashi Museum : (600 yen for adults)
Yukiko Igarashi is a cousin of one of the members of Clamp.  She lives in Sapporo, Hokkaido, and was the illustrator on "Candy Candy", with Kyoko Mizuki as the writer.  She also illustrated works written by others including "Mayme Angel" (which she did write), "Georgie!", "Paros no Ken" and "Muka Muka Paradise".  The Yumiko Igarashi Museum is in Kurashiki, Okayama, on the way to Hiroshima.  It includes a gallery of works, a cafe and a costume fitting room if you want to dress like a princess. 
Address: 9-30 honmachi, Kurashiki 710-0054

Kawakami City Manga Gallery :
Manga center featuring the works of Ichiro Tominaga.

Hiroshima
  
Hiroshima City Manga Library :
As the name says, a manga library located in Hiroshima.  The website says that they've got close to 54,000 volumes on the shelves.

Ehime
Kasho Takabatake Taisho Era Romance Museum :
Kasho Takabatake was an illustrator who lived from 1888 to 1966. He focused mainly on drawing women in a 1920's style.  The main gallery dedicated to him is in Ehime.  Art collector Takumi Kano opened a small gallery in Tokyo (near Ueno Park) also dedicated to him, as part of the Yayoi-Yumeji Museum .  At the moment, it is "closed temporarily".

Shikoku

Anpan-man Museum:
An-pan is a baked bread with red bean paste inside.  Anpan-Man therefore is a superhero sandwich that strives to protect his town from evil bacteria and insects.  Actually, "Anpan-Man" is an incredibly popular and long-running children's anime.  The museum is dedicated to the anime characters, and their creator, Takashi Yanase.  (Note that Shikoku is the smallest of the four main islands that makes up the country of Japan.)

Ryuichi Yokoyama Museum:
Yokoyama is one of the earliest manga artists in Japanese history, and created the first anime series to be aired on Japanese TV.  He's little known in the U.S, and his art style is fairly primitive.  But, he was highly influential in the development of the manga and anime fields, and he was adopted by the city of Kochi, on the island of Shikoku.

Tamarin Memorial Gallery
Tamatsukuri Yoshiro was a young artist from Kochi who took on the pen name "Tamarin".  On Nov. 18, 1998, at age 26, he died when a truck struck his bicycle.  In 2003, a memorial gallery located in Nangoku City was dedicated to him.  The memorial does not have an official website, so all inquiries must be made directly through the mail or over the phone.  One website does have photos of the memorial building.  Fliers for the memorial can be found at the Tokyo Anime Center and the Suginami Animation Museum .
Tel: 088-804-6511

Kyushu

Watase Seizo Manga-Kan :
Seizo has long appeared in Weekly Morning magazine, and his "Heart Cocktail" was turned into a TV anime series that ran from 1986 to 1988.

Ultraman Land :
Arcade and goods shop dedicated to all things "Ultra".

Yunomae Manga Art Gallery :
Manga gallery run by the city of Yunomae.

General

Visit Anime Spots:
att_japan has a listing of anime-related sight-seeing spots, which include statues at train stations and the like.  While they do also mention various museums, they don't give links or addresses.  But, they're worth checking out anyway, since their list is bigger than mine right now.